Olde Harbour Inn
Voted Best Pet Friendly Hotel in Savannah
Bringing your pet to Savannah? You'll want to book your stay at Olde Harbour Inn. We're proud to have been voted Savannah's best pet friendly hotel, so know that you and your four-legged traveling companion will be warmly welcomed --- and maybe even a little bit spoiled here with us.
We do charge a $50 non-refundable fee for your stay.
---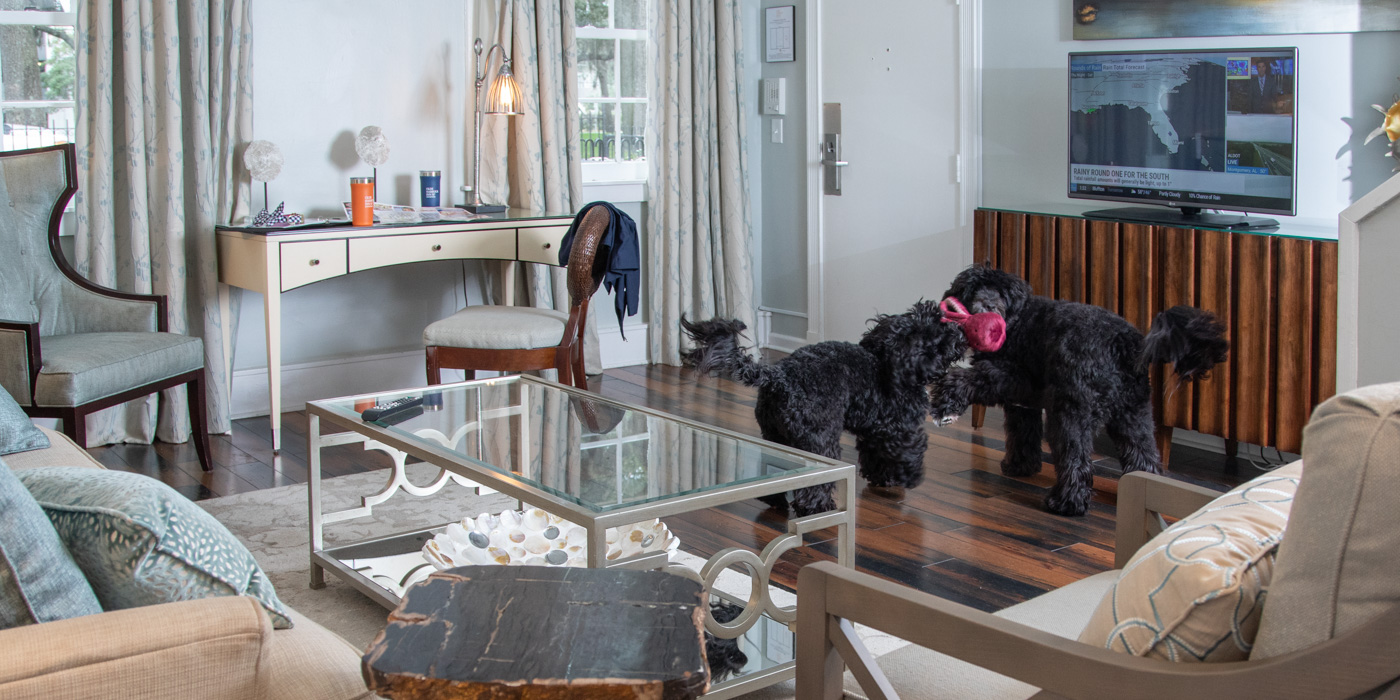 What can you do with your dog in Savannah?
1. Take a self-guided Walking Tour
You'll get to see the city at your own pace, and your pup will get training and exercise en route. With 22 parks and squares, Savannah's downtown area is one of the largest National Historic Landmark Districts in the US. It's a great place to walk your dog!
Take note of the convenient doggie waste receptacles Savannah has installed for you and your dog. Most of the squares have an in-ground waste receptacle, noted by a green metal lid with a white stencil of a dog on it. Just open it by pressing a pedal with your food. You'll even find doggie water fountains positioned at nose level for your dog. There are two in Forsyth Park, one in Troupe Square, and another in Ellis Square.
2. Go on a Pet-Friendly Tour
Most walking tours are pet friendly. We recommend Old Savannah Tours for a trolley tour if your dog prefers to ride. Perhaps the most dog-centric tour you'll find in Savannah is Oliver Bentley's Historic Dog Walk Tour.
3. Enjoy Pet-Friendly Dining
Several restaurants within walking distance don't mind if your well-behaved dog sits quietly beneath your outdoor table. It's not unusual to find water bowls outside many downtown Savannah businesses. Ask us at check-in for restaurants currently open and welcoming to dogs.